All the best for 2015 from Domaine de Joreau
We wish lots of love, satisfaction and success to you and your family !
As in the last couple of years, we would like to inform you once about the milestones of the past and the news of the coming year. 
Our Homepage is ready for 2015: our new self-catering holiday rental - Belle Etoile - one of our major projects during 2014, has been added to the first holiday house - Douceur Angevine. A part from that we have created a whole chapter around Loire Tourism and dedicated an extra page to Loire Wines and Cycle Holidays. Prices, conditions and offers have been updated. We hope you will find useful information and enjoy reading  !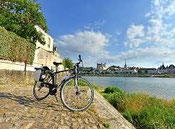 We welcome more cyclists year after year. The roads get better and new path' are created. If you have a plan to come cycling along the Loire, but don't know where & how, read more...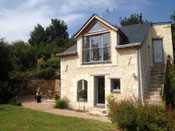 Typical Loire Valley stone house that sleeps 4 in the village center with foot path to the river and into the village. Wonderful view over the Loire Valley. Interested ... ?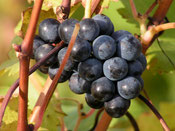 30 different appellations between angers and Saumur, from dry white to full-bodied red wines, the Loire Valley hides lots of treasures. To get more insight, read more here ...
---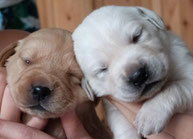 The best for the end: big surprise in Oktober when our Golden Retriever Goya became 8 wonderfully cute and healthy puppy dogs. Two month of adventure followed for the whole family. Fortunately we found a welcoming family for each of them just before Christmas.

We thank you very much for your stay at the Domaine de Joreau wether it was in the B&B or in the gite, for all your nice words, encouragements and advices. Many of you are coming back ! Thank you and have a great year 2015 !
Best wishes, the Schewe Family
---
---